Snowy Peak is Denver's premiere Video Production and Animation company. Based in Colorado, it is our home and we are committed to serving the businesses here. When it comes to video production, we take a strategic approach. We work with our clients to maximize their ROI by providing creative and strategic direction for how best to use the videos. Production is just part of the equation – building the videos within a larger marketing campaign to drive customer engagement is our goal. We want the video to work for you. This unique approach has brought us success and recognition in the form of being awarded a high rank amongst the list of best Colorado B2B agencies.
Clutch is a marketing research firm based in Washington D.C. They provide ratings and reviews for B2B agencies on their platform through their detailed methodology that is centered around client feedback. Their independent review process gave us a perfect rating of 5/5.
Here is a snapshot of a review published on our Clutch profile: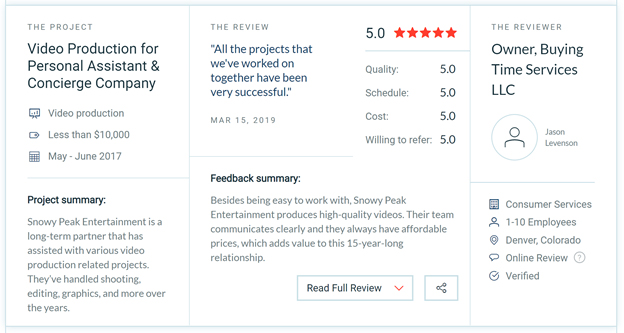 Furthermore, we have been featured on Visual Objects, Clutch's sister site. Visual Object features top-rated B2B agencies alongside their creative portfolios so that you can visualize what your next project may look like. Check out our portfolio items on Visual Objects.
We want to thank our clients for their continued support and for working with Clutch to provide us with these reviews. We value this very highly because we want our customers to have the most accurate and extensive information available to them before they make a big decision. Please feel free to contact us for further information or to inquire about working with us.
Posted By Snowy Peak on 7-11-2019
Animation or Live Action Video Which is the Right Fit for Your Company
Running a company can be stressful. You want it to do well so you do your research on the optimal advertising that will affect growth for your business. Snowy Peak understands the conundrum companies find themselves in when it comes to whether to use Animation or Live-Action video. While each company will have to make these decisions, we want to help them make the best possible choice by giving them the needed information. When it comes to marketing your brand or company, narrowing it down to what type of marketing video you want use is difficult. With such an important decision you'll need to know the answers to a few key questions. What is your target demographic? Does your product or service have multiple elements that make it complex? How and where will the video be viewed?
Live-Action video is a tried and true messaging technique. The target audience identifies with those in the video and can see themselves using the product or service. Lifestyle is easily conveyed and the product or service becomes central to one's life. For these reasons as well as many others, Live-Action video is a very effective marketing tool.
When it comes to using animation in a marketing video you might be reluctant, but the truth is it can boost your brand. With every business, you want your customers to know that you follow current trends and showing them that you stay up to date with the latest technology is important. How companies market now, is different than how it was only a few years back because millennials have changed the game and view animation as a fantastic medium to receive information.
You want to reflect your reputation and to be known as a company that is trustworthy, transparent, and simple. Both 2D and 3D animation help companies do just that. You're able to explain the product or service with ease, giving the exact impression that you want to leave in the minds of those who are watching. You only have a limited amount of time before your audience moves on so you want your opener to be eye-catching, yet display what will speak to your audience. Whether you're marketing to baby boomers or millennials you'll need to know how to speak to each demographic.
Snowy Peak can assist in helping you choose the right video style for your company, but we also know exactly how to target your desired audience. We make sure we understand exactly what you need, where you want to go, and what you're all about as a company so that we can help you. Contact us today by filling out our online request form!