Over the 12 years of working in the cinematic video industry, Snowy Peak has used quite a few different video cameras and workflows to produce high-quality, cinematic footage to help bring our client's stories to life. We started using the RED Gemini a few years back because of the dual sensor for low light situations and the beautiful skin tones it produces. 
But it wasn't until RED released the 6K Komodo that our productions became streamlined with lots of camera movement, even in extremely challenging settings without losing any quality. 
The RED Gemini Ranger is a departure from the classic RED Dragon Sensor, the Gemini sensor is a 15.4 Megapixel Dual Sensitivity 5K Super 35 measuring 30.72 mm x 18 mm (Diagonal: 35.61 mm).
We actually stumbled upon this camera while searching for a camera package that provided softer contrast, life-like skin tones, and beautiful highlight roll-off… all while being able to excel in low light for campfire and evening shots. 
After using a Gemini for a very challenging shoot (Wolf Action Fund video), we realized we needed to make this our in-house and go-to camera. With the release of the DJI Ronin S2, the gimbal movement became a standard for our productions. However, the Gemini Ranger when rigged is far too heavy for the Ronin S2. 
We were left once again using DSLR, Canon C200, or other cameras that, while great, didn't natively match the Gemini in color and quality. Enter RED Komodo.
The RED Komodo changed the standard for compact cameras. Its small, compact design was a huge change from traditional DSMC2 RED brains. Not only is it small, but it has a built-in touchscreen monitor, and a 19.9 MP Super 35 Global Shutter CMOS sensor, and weighs in at just over 2Lbs. 
Built as a "Crash Cam" for Hollywood productions, it was quickly realized that this little camera produced truly breathtaking images and could be used for high-end productions without the cost of traditional high-end cinema cameras. It's likely the best purchase we have ever made!
RED Gemini, Komodo, and ipp2 color science:
One of the greatest advancements in modern cinematography is the RAW workflow of native camera formats. Every manufacturer now has some version of this. Arri has ARRIRAW, Blackmagic Design has Blackmagic Raw (.braw) and RED has REDCODE RAW (.r3d). 
The beauty of shooting in a RAW format is the flexibility in post-production. The R3D codec is extremely flexible within the post workflow and uses RED's ipp2 color science. It offers the ability to natively change the ISO, Color Space, Gamma Curve, Highlight Rolloff, Color Temp, Exposure, etc. in both Adobe Premiere Pro and Blackmagic's Davinci Resolve; essentially taking the settings shot in the camera and allowing almost all of them to be changed in post. 
This makes camera matching possible even with two completely different brands of camera shooting different lenses. Possible, but not always easy!
The easiest is always to shoot the same brand and model camera with matching lenses. However, that's not always an option as different cameras are better in certain situations. If both cameras are made by the same manufacturer and offer the same color science, then you have a much easier time matching shots, even if they don't have the same sensor or lens. 
RED Komodo uses the same color science and ipp2 workflow as the RED Gemini. For this reason, when RED Released the Komodo, we jumped on board right away. Not only did Komodo match Gemini in color science, but the form factor made it a perfect gimbal camera! Finally, we had a camera package that offered the level of quality we want to provide to our clients as well as a streamlined post-production workflow.     
On Set:
Onset, efficiency is critical. Knowing what camera and setup fit what style of shot can make the production finish on time and on budget, while not planning ahead can lead to a disgruntled client AND crew. For this reason, we have put in place certain rules about what camera gets used in certain situations. 
Not every production requires both the Gemini and the Komodo. Instead, we spend time in pre-production going over the desired end product. Does it need to be constant motion requiring dollies or gimbals? Will there be low-light shots or higher frame rate (slow motion) shots? 
While both cameras can handle many of the same situations and shooting styles, they definitely excel in certain situations. The Gemini is a beautiful sensor with many frame rate options. With it, we are able to film up to 240 fps, although this is rarely needed. We base almost all of our projects on the 23.976 frame rate which offers a more film-like look. 
With that, we shoot most of our broll at 48 fps to give a soft slow-motion feel. There are times, however, we need to push this frame rate up closer to 96 fps.
The Gemini allows us to capture footage at all of these different frame rates without changing anything except the T-stop on the lens and Frame Rate on the camera. The Komodo overclocks to 40 fps at 6k but when set to 5K to match the frame size of the Gemini, it records at 48 fps. While this is a great frame rate for a soft slow motion, it is limited in how slow we can go. 
If the situation requires true slow motion, then obviously the Gemini is the go-to camera for the project. 
On the other hand, if the production is a more active lifestyle… skiing, biking, hiking, fishing, or basically anything in Colorado outdoors, the Komodo is the PERFECT camera! It mounts on the Ronin S2 like it was built for it, allowing us to "fly" the camera from various rigs, such as the Tilta Alien Rig car mount, and it features a Global Shutter instead of the more common Rolling Shutter.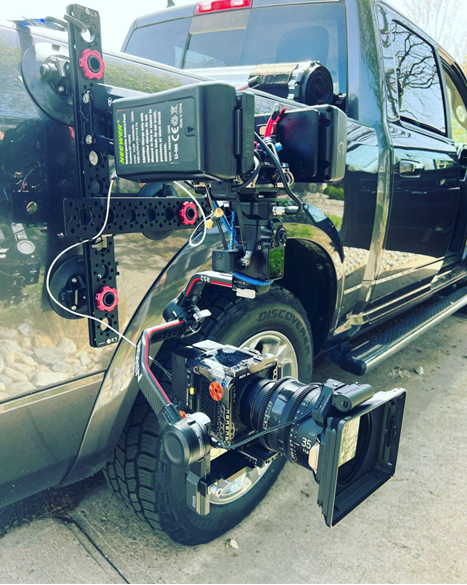 A Global Shutter, usually found in higher-priced cameras, leads to smooth footage even with faster motion. This helps the Komodo footage integrate flawlessly with the Gemini. As a handheld camera, the Komodo is lightweight, flexible in how you can build it, and easy enough to set up and use, it becomes a run-and-gun workhorse. 
Onset we almost always have the Gemini built and either on a good tripod or a Dana Dolly, while the Komodo is either rigged on the Ronin S2 or as a handheld rig. We put wireless focus on both and tie them to a director's monitor and/or AC station for focus assist. 
By building both cameras in this fashion, we are ready to grab multiple shots from different angles and with different motions, without having to rebuild our cameras for different style moves.  
Camera Build:
Over time, we have used several different builds on our cameras. This includes hand-held focus rigs, wireless focus rigs, dovetail plates with rails, on-camera monitors, on-camera audio, shoulder rigs, dollies, and gimbals. All of them have a place on set and all of them add their own unique challenge. Here is our standard build for both cameras.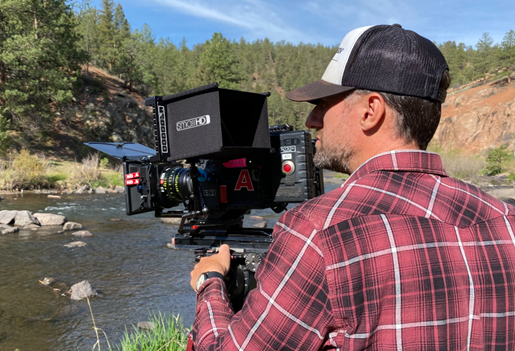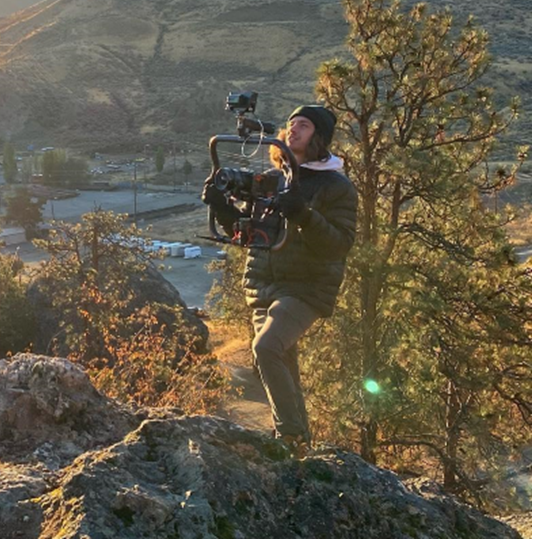 And here are some of our more elaborate builds: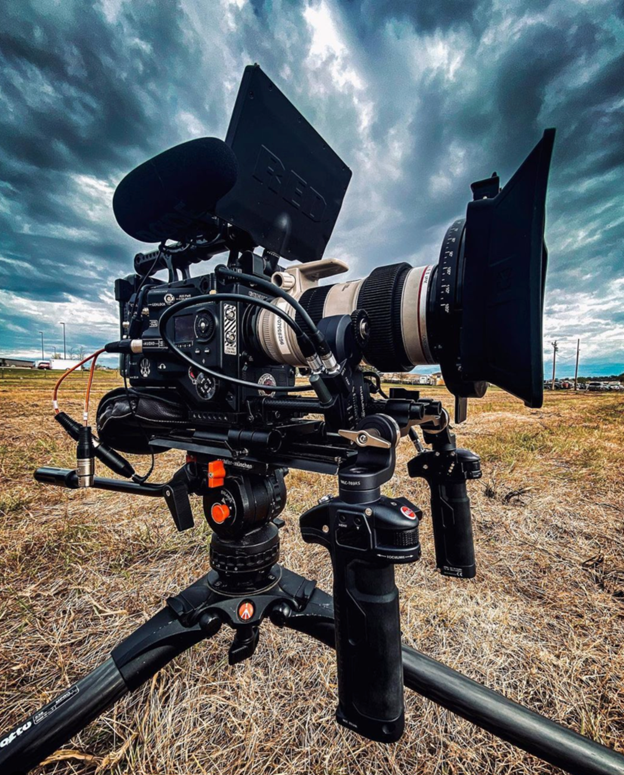 Cameras in use: 
Here are several commercial and social media videos we have created using this pipeline within the last year. 
Gemini Only: 
CRED – Today for Tomorrow Broadcast Commercial 
SonderMind – Brand Story 
Hampton & Pigott – Brand Story 
Komodo Only: 
Rockrooster Boots – Social Media 
The Sawaya Law Firm – Cycle Rider Lawyers Broadcast Commercial 
The Sawaya Law Firm – Cycle Rider Lawyers 
RescueX – Dramatic Sales Video 
Combined Cameras: 
My Greeley – Unbound Online Promotional Video Campaign  
My Greeley – Open for Business Video Campaign 
My Greeley – Open for Business 
The Sawaya Law Firm – Moments Broadcast Commercial The Sawaya Law Firm – Moments
Moving Forward:
The RED Gemini has excelled as a true workhorse for us and the use of this camera moved Snowy Peak several notches up in our baseline production quality. 
There is now a new 'King of the Mountain' from RED. The RED Raptor is an 8K, full-frame sensor with high-frame-rate capability and the option to shoot it as a 6k S35 sensor, effectively matching the Komodo's native sensor and frame size. 
Perhaps we will move to the new DSMC3 workflow in the future but for now, we love the look, quality, and how easy it is to use the Gemini and Komodo as one truly amazing camera package.    
Get in touch:
If you have a challenging production, or simply have questions about how to improve your workflow, we would love to chat with you. Please reach out to us here:  https://snowypeakfilms.com/contact-us/