Snowy Peak Named by Clutch Top B2B Companies
Clutch Top B2B Companies
Snowy Peak Named by Clutch as one of the State of Colorado's Top Video Production Agencies.
The Snowy Peak team just heard some major news! Clutch.co is named Snowy Peak as one of the world's top video production agencies! Video is making waves as one of the best investments in your business, with article after article talking about why investing in things like video production is the right choice for more and more companies when they move forward with development. That is why we're so honored for Clutch to name us one of the best!
"We are thrilled to be recognized by Clutch as a leader in Video Production; the businesses we get connected to through Clutch's website are a perfect match for the clients we enjoy working with." -Troy Waterman, Founding Partner – Snowy Peak
Clutch.co is a companydedicated to providing buyers of B2B services the most important information when they purchase B2B services. Their team sits in the heart of America's capital city and takes the time to interview clients, verify the reviews independently to ensure their accuracy, and curate the content so that you can feel confident the next time you purchase B2B services listed on Clutch.
This is why we're so thrilled to highlight our Clutch profile and our stellar star average! In a recent review, the president of Cherrey Creative praised our 3D animation work!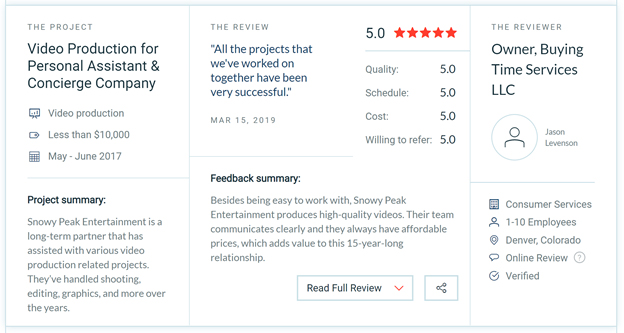 Thanks to our enthusiastic positive reviews from our satisfied customers, Clutch ranked us as one of the top video production agencies in the state of Colorado! It's a privilege to make their resource shortlist.
We're incredibly grateful to Clutch for selecting us as Clutch top B2B Companies, and even more grateful to our many happy customers who left us great reviews on their platform! If you're interested in video production, give us a call today!