2021 National and Local Excellence Award Winner
For more than a decade, UpCity's mission has been—and continues to be—to help businesses find B2B service providers they can trust. The UpCity Recommendability Rating was developed to determine a service provider's credibility and recommend ability, giving UpCity the confidence to recommend them to the more than 1.5 million businesses that visit their site.
Each year, UpCity analyzes and scores more than 70,000 service providers based on their UpCity Recommendability Rating and acknowledges the top national and local providers with an UpCity Excellence Award. The results are in, and we won!
We are ecstatic to announce that the Snowy Peak team has been recognized as one of the top B2B service providers of 2021 in both the U.S. and Denver area by UpCity!
Snowy Peak is Denver's premier video production and animation company. When it comes to video production, we take a strategic approach. We work with our clients to maximize their ROI by providing creative and strategic direction for how best to use the videos.
Producing a great video is only part of the equation. Building the videos within a larger marketing campaign to drive customer engagement is our goal.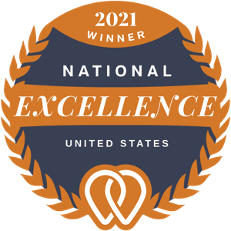 Dan Olson, Founder & CEO at UpCity, had this to say about Snowy Peak:
"Snowy Peak creates top-quality videos for their customers while ensuring that the process is fun and enjoyable for everyone involved. This joyous and professional approach is how they were able to achieve a National and Local Excellence Award at UpCity."
–Dan Olson, Founder & CEO
More Reviews
This recognition has been driven in large part by our 5-star review rating on UpCity. Here are a few of our favorite pieces of feedback we've received from our incredible customers:
"A great production company that was willing to jump right in with helping to put together an entire on-location interview for a subject with the right equipment and settings we needed to ensure the job was done right, thank you!!"
–Mike Madigan, Snowy Peak Customer
"My organization was in need of a production company to partner with on some highly technical, highly niche educational/training videos and I am so, so, SO thrilled to have found Snowy Peak. We have collaborated with Snowy Peak on three projects now, and we could not be happier with the results.
Not only is this crew professional, organized, creative, and adaptive, they are extremely fun and easy to work with. This team is flexible and responsive and has worked in close collaboration with us on everything from creative vision to budget.
Snowy Peak has become our go-to for videography and production needs. I can't stress enough what a joy this crew is to work with. If you are in the Denver metro/front range area and need a production company, give them a call – you will be happy you did!"
–Jamie Magyar, Snowy Peak Customer
We are excited to be a national and local excellence award winner and we want to thank the UpCity team for the recognition. We also want to thank our customers throughout the years for their continued support. Snowy Peak strives for creative collaboration. We work with our clients; listening and working with their vision to help evolve and guide. We believe that it was this approach that led to our success.
Upcity's 2021 National and Local Excellence Award Winner
Each year, UpCity's National and Local Excellence awards celebrate outstanding B2B service providers with the highest brand integrity and performance. Excellence awards are the highest achievement a B2B Service Provider can attain on the UpCity Marketplace.
For over a decade, UpCity has had a mission to help businesses find B2B service providers you can trust.