The overall vision of video production comes to life through the eyes of the Director.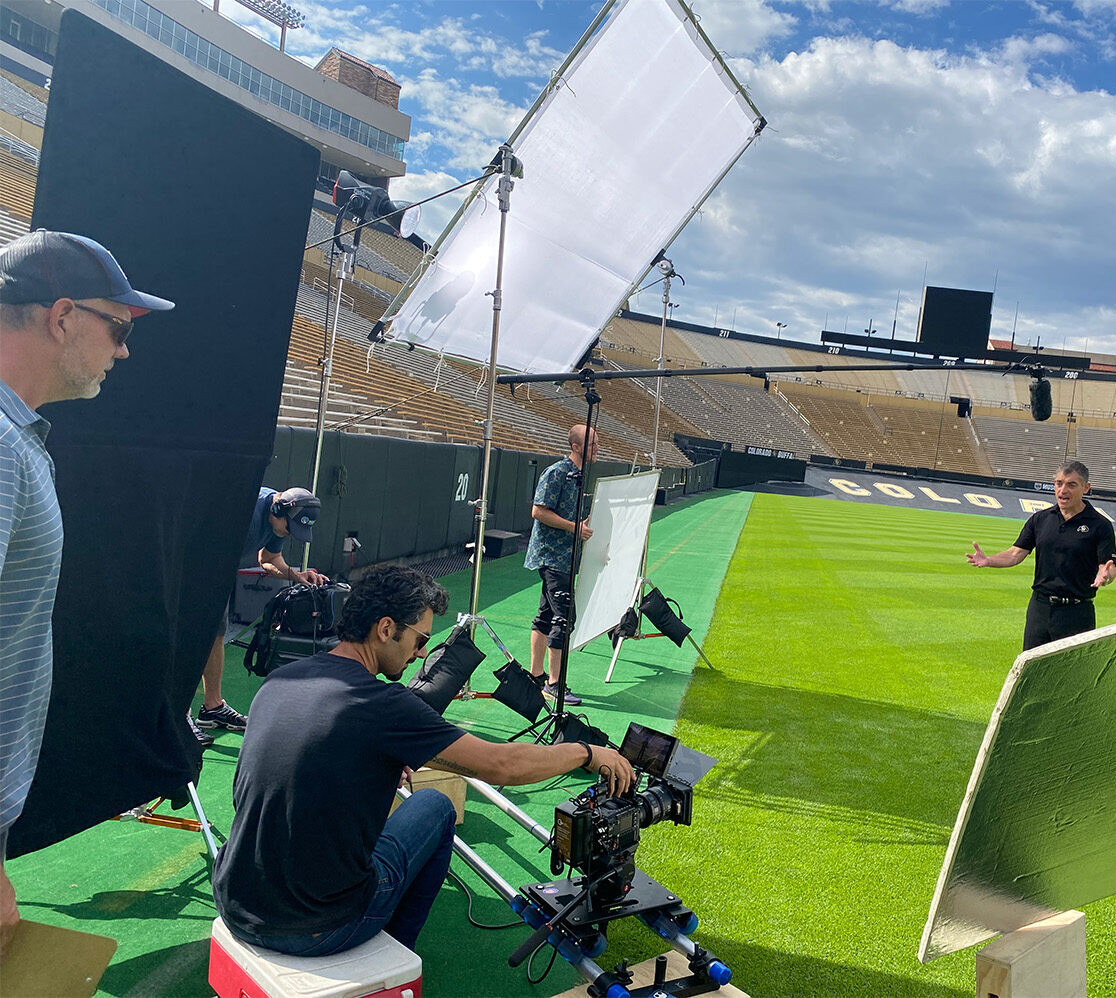 Video Production requires many different skills on set for a successful video production. On a Snowy Peak Films set, we like to bring a minimum of 5 crew members but can add as many crew members as the production requires.
Our Typical 5-person crew is:
Director – Our director is responsible for the overall production. Our Director works directly with the Director of Photography on the position and angle of camera shots and the lighting required per scene. It is the Director's job to make sure the client's vision is fully realized on set.

Director of Photography – Our DoP is responsible for the look and style of the principal photography and works hand-in-hand with the Director on lighting along with both camera position and camera angles.

Producer – Our Producer is responsible for keeping everything organized and the production day on schedule. He/She also ensures the scripted content is being captured correctly.

Gaffer – Our Gaffer is responsible for the Grip and Electric gear, including lighting, needed on set. He/She typically manages a Grip and works directly with the Director of Photography to arrange the lighting setups needed for each scene.

First Assistant Camera – Our First AC is responsible for all of our camera gear including lenses. They make sure our cinema cameras are built correctly with the desired lens and all the accessories necessary such as follow focus and wireless transmission. When the camera rolls, our AC typically pulls focus for the DoP.
Choosing the right director
We have several Directors at Snowy Peak Films and we utilize their different skill sets depending on the style and vision of the video production project.
Some Directors are excellent at interviewing and can help even the most nervous and inexperienced interviewee feel comfortable and confident on camera.
Other Directors excel at directing both professional and non-professional on-screen talent. This is a special skill that requires a combination of excellent communication and timing.
Not every Director is right for every video project. Because of this, we have several talented and experienced Directors on staff. We always introduce you to the director we believe to be the best for the job, however, if they are not a perfect fit, we will gladly bring in other options until you are completely comfortable.
At the end of the day, it's your project and your vision. It's our job to make sure our entire crew is on the same page in making your vision a reality.
Elevating Brands Through Creative Collaboration.
Our attitude is Creative Collaboration, and we're always looking for brands with which we share a common thread- an understanding, connection or objective. Let's start a discussion—and celebrate your success—together as a team!
Are You the Creative Type?
For General Inquiries:

720.398.4668